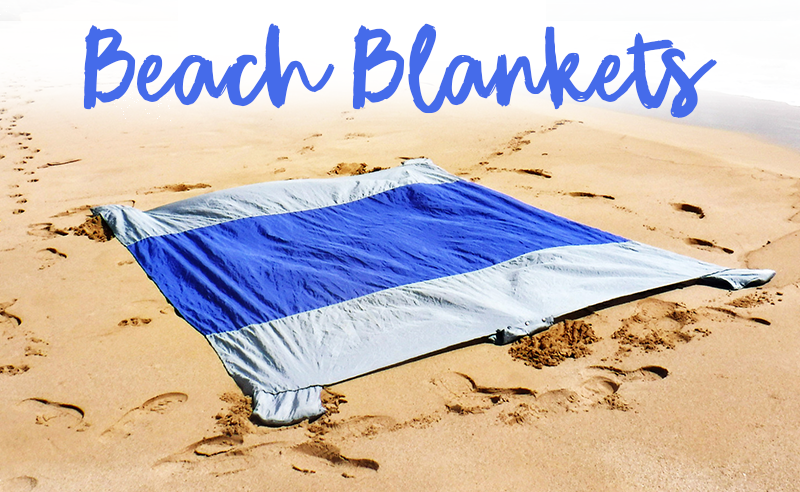 Tired of sitting on that dirty old towel that you've been bringing to the beach for years?
Maybe you want something a little bigger so you can sprawl out and soak up that sun.
More...
This is when having a beach blanket comes in handy.
They're one of the essential items for any beach trip.
Whether you want to lie down and get your tan on, read a nice book, or have a little beach picnic, all you have to do is lay down your blanket and kick back.
Beyond comfort, blankets provide protection from the hot sand, as well as rocks and other harmful items that may be buried beneath the surface.
Today we're going to be looking at some of the best beach blankets on the market so that you can upgrade your chill game today.
Perfect for Families of 5!
Premium-Grade Parachute Nylon Material
Small Anchor Pockets On the Corners
---
Perfect For Larger Family Outings!
Made of Quick-Dry Parachute Nylon
Comes With Compression Pouch
---
Best Mat For Travel and Transport
Made of Durable Polypropylene
Folds Up Into A Carrying Pouch
This high-quality, ultra-lightweight blanket is excellent for larger families or beach parties. At 7'x9', 20% bigger than most beach blankets you would find on the market, there is more than enough room for you and the entire family to kick back.
This is what makes it so ideal for almost any kind of family outing. It's made from premium-grade parachute nylon that is durable, breathable, and sand-resistant, making it one of the best sand-free blankets around.
Basically, you won't have to worry about getting a new blanket for a long time. It's also completely waterproof, making it perfect for when you're not paying attention and the tide rolls in!
There are small pockets attached to the outside of the blanket wherein you put sand to keep your blanket weighted to the ground.
This is incredibly helpful for when the wind picks up, as the last thing you want is to have to chase your blanket a mile down the shoreline. Beyond that, there is a small valuables pocket where you can store any portable items such as your phone, wallet, or keys.
#2 Ricdecor Mandala Microfiber Beach Blanket
Searching for a beach blanket that will wow your friends and family?
The Ricdecor Mandala Blanket is an excellent round beach towel for those who are looking for something a bit different.
It has a truly gorgeous and authentic mandala design and is perfect for resting on the sand, as well as for meditation, yoga, park picnics, or whatever else you do to zen out. Once you're done using it at the beach, you can even hang it up at home for Bohemian-style decor.
The fabric on the Ricdecor Mandala Blanket is thicker than a standard beach blanket and is made of microfiber. This allows it to absorb more water and dry off very quickly. It also makes for an incredibly soft and comfortable blanket to sprawl out on.
This towel might be a bit too small for families, though it will allow you to cuddle up with your loved one and enjoy a beautiful beach sunset, as it fits up to two people comfortably. In all, it is about 5 feet in diameter.
#3 SportLite FunNSun Blanket 5'x6'
The SportLite FunNSun is the official blanket of the Los Angeles County Lifeguard Association, and if anyone knows a good beach blanket, it's the people that are at the beach all the time. When it comes to proper blankets, Lifeguards need them to be lightweight and non-absorbent while drying fast.
They also need them to be travel-friendly and durable. Luckily for you, the people from SportLite are no strangers to these facts, and that is why they wrapped up all of these characteristics into one of the most versatile blankets around!
The SportLite FunNSun packs tightly thanks to their compact design, allowing you to take it with you wherever you go without hassle. It is made of an ultra-absorbent, 100% microfiber material that is both comfortable and tough.
If you at the sides, you'll find a few hidden anchor pockets that you can fill with sand or rocks to keep it from flying away in the wind. This blanket comes in a variety of colors and patterns so that you can get one that suits you best!
Best Beach Blankets For Families​
#1 BEST FOR FAMILIES - WILDHORN OUTFITTERS ESCAPE 7'X9'
Need a big blanket for the entire family to rest on? The Wildhorn Outfitters Escape is the best family beach blanket around! The coolest part is that it's still compact thanks to the integrated compression pouch.
You can stuff the entire blanket into a 6"x7" pouch so that you can make more room for all your other gear. That's less than a tenth of the original size! It is made out of parachute nylon that is durable, breathable, lightweight, and quick-drying.
It is also 100% waterproof and sandproof. No more dealing with throwing sandy or wet blankets in your car!
The Wildhorn Outfitters Escape comes complete with four integrated anchor pockets on each of the corners that can be filled with sand so that you can hold your blanket down to the ground, even in the windiest of conditions.
While it is made with parachute material, you certainly don't need it to act like one. In the front, there is a smaller, more inconspicuous pocket that is perfect for storing valuables such as keys, sunglasses, wallets, phones, or whatever you need to keep safe!
#2 Live Infinitely Sand Free Compact Blanket 9'x10'
We've read the tales and heard the news. What we've deduced is that sand is the mortal enemy of many beach blankets, and if you're sick of tossing your blanket in your car to get sand in all the crevices, you'll dig the Sand-free blanket from Live Infinitely.
Not only does it remain sand-free, but it is also wonderfully thick and comfortable to lay on. It is made out of heat, sand, and water-resistant ripstop nylon material, making it both practical and durable.
At a whopping 9'x10' in length, you can easily fit a family of 7 without hassle. When you're all done, you can fold it down into the insanely small 4"x8" travel pouch to stow away with all your other beach gear.
This blanket seems as big as a parachute. Luckily there are five pockets that can be filled with sand or rocks to stop it from acting like one when the wind picks up.
Live Infinitely has also included four anchoring loops and metal stakes so that you can hammer it into the grass for a nice picnic.
#3 Fylina Oversized Beach Blanket 7'x9'
At 7'x9', the Fylina Oversized Beach Blanket is perfect for families of 5. From camping in the woods to days spent on the sand, it can go just about anywhere you do. The quick dry material that it is made out of is some premium grade parachute nylon.
This means you get a blanket that is sand-resistant, heat-resistant, water-resistant, and tear-resistant. There's no reason why it wouldn't last you for years. There are four fillable sand pockets spread out on the corners so that you can fill them with sand or rocks to keep it grounded.
Beyond the anchor pockets, it comes complete with four aluminum anchor stakes that help to secure the blanket firmly to sand or grass, just like you would do with a tent.
This is pretty great, as depending on where you're at, you may not have any small items available to fill your anchor pockets with. When you're all done using it, you can fold the blanket away into the included 7"x8" carrying pouch and carry it like you would a small tote.
Best Mat-Style Beach Blanket​
OUR #1 MAT-STYLE: CAMCO HANDY MAT
The Camco Handy Mat is perfect if you are looking for a smaller, mat-style blanket that is easy to transport, you should check out the Camco Handy Mat.
It comes with reliable, built-in handles for easy carrying and convenient pockets on both sides for storing small items like your phone or wallet. The mat folds out to about 5'x6.5', making it great for seating anywhere from 3-4 adults.
It is made of an incredibly durable polypropylene weave material that is both weather-proof and mold/mildew-proof. You never have to worry about a smelly old beach blanket again.
The fabric edging on this blanket is unique in that it helps to reinforce the rest of it so that it doesn't fray. Spill something on it? Don't worry! The material is also stain-resistant so that you can quickly clean it with soap and warm water.
At just under two pounds, you can toss this thing in a backpack and get on your way! It's honestly the ultimate travel beach blanket.
#2 Roebury Sandproof Beach Mat
The Roebury Sandproof Beach Mat is both durable and water/sand-resistant. It works great for almost any outdoor terrain that you can think of! At 4.5"x6", it's not the largest in the world, though you should at least be able to seat about 3-4 people on it depending on their sizes. The Sandproof Beach Mat is double-sided.
The side you sit on is pretty obvious thanks to the patterned design. It is made with a soft, sandless lining that is both easy to clean and comfortable to sit on. The other side, which comes in a mono-color design, is made of a tougher nylon material that is sturdy and durable.
When you're finished lying on your blanket, you can easily fold it up into a small, zippered tote and toss it over your back with the convenient shoulder strap.
We love that this lightweight little blanket has a practical side pocket as well, perfect for carrying your keys, wallet, or phone. Overall, it's a sturdy mat with and can be purchased in a variety of unique designs.
#3 SONGMICS Waterproof Picnic Blanket
The Songmics Waterproof Picnic Blanket is wildly comfortable with its soft, fleece design. This isn't your typical fleece though.
It is backed with a waterproof EPE and foam, making it resistant to both moisture and sand. One of the unique things about this blanket is that it comes with unique, folding Velcro tips.
These allow you to pack up the blanket into a small 16"x10" briefcase-style design so that you can easily save space during storage and transport. It also comes complete with an integrated strap that lets you carry it around as a shoulder bag for convenience.
Unfold this bad boy, and you get a 6.5'x5' blanket. While it's not meant for the whole party, it is certainly big enough to fit 3-4 people sitting down. This makes it perfect for smaller families! We love the colors on the blanket.
They're both striking and bright, perfect to find on the beach, even from almost a mile away. For comfort, convenience, and simplicity, the Songmics Waterproof Picnic Blanket is an absolute winner.
How To Choose The Best Beach Blanket​
MATERIAL
The material of a beach blanket is one of the most crucial things to consider when purchasing, as it's probably the most significant characteristic that separates regular blankets from beach blankets.
Not only do you want your blanket to feel comfortable when you sit on it, but you also want to make sure that it can hold up with the elements.
Some of the top blankets on our list use what they call parachute nylon.
Parachute nylon is what skydivers will use in their craft, meaning you know that it's one of the most robust and most reliable materials around. You can drag this thing over rocks, spill drinks on it, and leave it outside all night, just to find it in good condition come morning.
While this type of material seems to be catching on these days, many other companies are using materials such as microfiber, fleece, polypropylene weave, etc. While microfiber and fleece are comfortable, they aren't necessarily the strongest.
On the other hand, weaved blankets are typically very durable, though are a bit rigid to sit on. While it genuinely comes down to your personal needs, understanding the pros and cons of each type of material is important.
Size
How many people do you need your blanket to provide space for? Because beach blankets are far from one-size-fits-all, it's important to consider both dimensions and shape. If you're buying a beach blanket for your family, let's say 5 or more people, you'll likely want a large, square blanket that is at least 6'x7'. On the other hand, a beach blanket that is too big might be an issue if you're visiting beaches that are pretty busy and don't have the amount of room you need to set up.
While we don't have any oversized blankets on our list, they are out there. These can comfortably fit up to 10 people, though that's a stretch for many. Consider who you typically visit the beach with. That will help you to find the blanket that is the most accommodating.
Thickness
The thicker the blanket you get, the more comfortable it is going to be when you sit on it. The thing is, that added thickness is also going to add to the weight of the blanket. If you're someone who likes to hike down to your favorite beach spots or someone who basks in that nomadic lifestyle, having a thick beach blanket might not be the best idea.
However, do note that a thicker beach blanket can add a bit of security to your leisure. The thicker the blanket, the more it will protect you and your family from the heat of the sand, small rocks, or possible sharp objects that might be lying just underneath the surface.
Water-Resistance
There's no avoiding a wet blanket at the beach. Unless it's drier than the Sahara Desert out there, your blanket is likely to collect moisture just from sitting next to the ocean. You should be able to enjoy your time in the ocean without having to worry about coming home with a damp blanket. This is why it is essential to look for a beach blanket with water-resistant materials.
Some blanket materials, such as parachute nylon, are water-resistant by design, while others need some "waterproof" coating on them to stay dry. Can't find a waterproof blanket that you like? Try making your own!
​

Portability
For some people, portability is critical. Being able to go from one place to the next without having to haul a giant blanket over your shoulders will help to rid your beach days of burden. Portability comes in many shapes and sizes. If it's important to you, we would recommend looking for a beach blanket with an integrated bag. Some come with small pouches built in so that the blanket will fold up into itself almost a tenth of the size, while others are made to fold up and strap together like a mini-tote bag. In this case, the smaller, the better, especially if you have a ton of gear to carry or limited amount of room in your car.
Integrated Pouches
A bit more unique are blankets that have integrated pouches in them. These are great for carrying and stowing away smaller items such as your phone, wallet, or keys. How many unattended beach blankets do you regularly see at the beach? It's so funny that people seem to be the most trusting of others at the beach more than anywhere else. Maybe it's the good weather? Regardless, the beach is thief paradise. Having a small pouch on your blanket to hide your valuables can save you a trip to the bank when you need to get your credit card replaced.
Easy To Clean
A beach blanket should never be difficult to clean, especially if a company labels it as sand or water-resistant — many companies that specialize in creating blankets that utilize sand-proof materials so that you can lie your sand down in the blanket without starting a collection. A lot of these same companies use wicking, helping to keep your blanket dry, cool, and stain-free.
While most high-quality beach blankets have integrated this sort of technology, it is worth looking for one that is also machine-washable. If not, you should at least be able to wash them off with soap and water to get a nice clean.
UV-Resistant
If you decide that you want to get a bright and colorful beach blanket, you don't want to have it fade and discolor over time. This is a great reason to purchase a blanket with a UV-resistant coating on it. Many beach blanket companies don't advertise this, as it's typically not the biggest priority for people buying. That being said, protecting anything from longtime sun exposure is crucial if you want to prolong the lifespan. If not, you'll find that your fabric will become damaged pretty quickly.
Hold
Ever had to chase your blanket down the beach thanks to a strong wind? Welp, there went your relaxing day. You should have purchased a beach blanket with some type of hold feature. This is why many companies that specialize in beach blankets are starting to manufacture them with built-in anchor pockets. These anchor pockets are typically found in the corners (meaning they won't bother you) and can be filled up with rocks, sand, or whatever else your heart desires. IT helps to keep the blanket stuck to the ground where it should be, even during a windy surprise.
Some companies have even gone further as to design their blankets with loops. Typically, these types of blankets will come with stakes so that you can secure it to the ground just like you would a tent. These blankets are excellent for taking to other places besides the beach where you may not have little objects available to fill the anchor pockets with.
Price
There are more important things to spend hundreds of dollars on than a blanket that you'll be placing your bum on all day. Remember, while you don't want to get a blanket that won't last you, doesn't have durable features, or isn't comfortable, there is also no reason to worry about next month's rent because you just had to get the most expensive blanket out there. Know your budget and be reasonable. Just because a blanket is more costly than the next, does not necessarily mean that it's a better blanket.
FAQ​
Beach Blanket Vs. Regular Blanket
Stop taking your regular blankets to the beach! There is a reason that manufacturers make beach-specific blanket, and that reason is that they are made to hold up. Regular blankets are just not as durable as beach blankets. There are significant differences in material and design when you look at the two side-by-side.
There would be no reason for a regular blanket to be waterproof, sand-proof, or UV-resistant, like a beach blanket, which is why they're not made that way. They're also typically not made to be fast-drying or stain-proof either. A regular blanket that you would find at home is purely for comfort purposes while a beach blanket has utility to it. They're far more compact than regular blankets because of their thickness, and many of them even come with little totes or bags that you can stuff them into for travel. Besides that, great beach blankets will come with built-in anchor pockets so that they don't fly away in use.
In this sense, a beach blanket will go a long way for a small price, especially if you find yourself going out to the water a lot.
Beach Blanket Vs. Beach Towel​
Many people might say, "Well why don't you just get a beach towel instead?"
In this situation, there is no "instead." You should have both! Beach towels are much different than beach blankets in that they are made to be absorbent. This is because unlike beach blankets, their primary purpose is to dry you off. This is the reason why you typically leave the beach with a damp and sandy towel. They don't have the natural resistance properties that beach blankets possess.
On the other hand, a beach blanket is not going to dry you off, and would likely be uncomfortable even to try drying yourself off with. This is because most of them are relatively rigid in design. Basically what we're trying to say is these are not substitutes by any means! Do yourself a favor and make a note to pack both next time you hit the beach!
Where Else Can I Use Beach Blankets?
While the name may suggest it, don't think that beach blankets exclusive to the beach.
You can use beach blankets in almost any outdoor environment that you can think of thanks to their strength and design features.
Do you go camping a lot in the woods?
How about picnicking in the park?
Maybe you need a good blanket for your tailgate. Whatever it is, beach blankets are made to be versatile, meaning you should 100% get one if you're a lover of the outdoors at all!
Final Thoughts - Which Should You Get?​
Finding the right beach blanket means finding the one with ample size, one that is comfortable to sit on, one that is protected from the elements, and one that is easy to clean.
This is why we highly recommend the USA Polar Bear Compact. It has just about everything and more that you could want from a good beach blanket including tough nylon material, anchor pockets, and portable design. Cleaning it is also easy as pie.
We hope that our Best Beach Blanket article was helpful in kickstarting your beach relaxation. Remember to consider all the things we listed above so that you can have a wonderful time at the beach!