Contrary to popular stereotypes, not all surfers walk around barefoot. Anyone whose had to hop from the beach to the parking lot because they didn't have flip-flops or sandals will know how much of a buzzkill super hot sand can be. Worse, you could accidentally cut your foot with random sharp objects, and you'll find yourself injured even before you hit the water. And if you've been surfing in rocky surf spots with a razor-sharp reef bed, you'll know the lasting relief that comes with slipping on sandals to protect your feet.
We made a list of all the best sandals and flip-flops for surfers and those who want to get in on the surfer lifestyle. Read on to know whether you should go for leather, rubber or suede.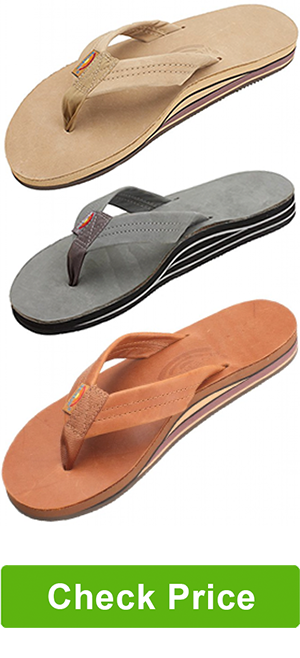 If there's a pair of sandals that every surfer must have, it's this double layer leather sandal by Rainbow Sandals. Jay "Sparky" Longley started rainbow Sandals in 1972 when he was struck with the inspiration to create the world's best leather sandals. When asked to describe his vision for Rainbow, Sparky says he simply wanted to create functional footwear that would last forever.
The Double Layer sandal has everything we love about the Single Layer Rainbow sandal, except it has an additional midsole layer for arch support. The midsole also comes with a pin line, which offers extra protection from the heel to the upper part of the foot's arch. All in all, the Rainbow Double Layer Leather Sandal is a pair that looks good in traditional leather, and it feels even better once you put them on.
Made from real leather
Double stitched and glued thrice for durability
Heavy duty bonded nylon thread
Non-slip bottom sole made of polished leather
Rainbow Trac bottom for maximum grip
Box X Toe
Hand-woven Original Rainbow label
Comes with product warranty
Imported
This is the pair of classic leather sandals that started it all for Rainbow Sandals. It is one of the lightest pairs of sandals available in the market, and it is also one of the most comfortable to wear. It is made of polished and smooth original Rainbow leather with a soft-top sole double stitched with bonded nylon thread for maximum durability. The toe piece is also made of nylon material, and everything else is glued thrice to create one of the world's sturdiest sandals.
Single layer original Rainbow leather
Double stitched bonded nylon thread
Glued thrice for extra sturdiness
Non-slip bottom traction
Toe piece made of light nylon
Box X Toe
Choose between a wide or narrow thong strap
Woven original Rainbow label
Imported
Reef is a well-loved global surf brand that caters to those who seek to honor the best parts of the surf lifestyle only with well-made, high quality products. If you live in an area with nice tropical weather, you'll agree that flip-flops and sandals are your staple daily footwear wherever you go. The Men's Fanning II are ultra comfortable and durable, and they are perfect for anywhere with an eternal summer.

The Fanning II's edge over Rainbow Sandals is that you can get them wet without worrying about damaging the material. These flip-flops will last you years, so you can wear them everyday without worrying about wearing them out right away.
Made of synthetic material
Sole is made of rubber
Cushioned top for optimal comfort
Compression-molded foot bed
Built-in bottle opener in the outsole
Made in the USA
The Quiksilver Carver flip flop is known for its soft suede straps that both look and feel good. It features a contrasting color for the stitching to add extra appeal for your footwear, which is good if you also like going out at night in flip-flops. The textured EVA foot bed is made of compression molded non-slip material that is shaped to conform to the foot's natural curve. The heel contour, arch support and the toe bar are also anatomically correct to provide your feet with superior comfort. You can walk for miles in these suede sandals without worrying about breaking them right away.
Wide suede straps
Contrast stitching
Compression molded synthetic sole
Arch support
Heel contour
Anatomically correct shape
Superior comfort
Havaianas is a brand known for both style and comfort. They are a favorite go-to brand for many beachgoers, travelers and surfers. The Havaianas Men' s Top Flip Flop is a classic Havaianas design that offers narrow and textured rubber straps over a rubber sole with a cushioned foot bed. The trademark Havaianas logo accents the straps and the sole of the slipper, to give your feet a classic island look.
Made of 100% polyvinyl chloride
Padded foot bed
Textured rubber straps
Textured EVA foot bed
Sole is made of rubber
Classic flip flop style
Comfortable and lightweight
Teva is an outdoor brand that first made the rounds in the camping and trekking scene in the early 1980s. It comes from the Hebrew word for "nature," and it has since become the footwear of choice for those engaging in active outdoor performance. The creator of Teva was a Colorado River guide in the Grand Canyon. One day, he got inspired to make a rugged pair of flip-flops suitable for crossing rivers. Through this innovation, Teva created a brand new niche called the sport-sandal. Since then, the comfort and utilitarian appeal of the Teva flip flop has been embraced by many other outdoor cultures such as surfing.
Wide fabric straps
Soft synthetic sole
Highly dense EVA midsole
Extra outsole grip
Lightweight
Rugged and durable
Can be worn wet
Take your first look at it and you wouldn't even know they're Crocs. The Crocband Flip Flops ditches the bulky sandal look that Crocs has been known for since they launched. Instead, it goes with a more classic thong look but
with a sporty finish. The Crocband is made of a super soft synthetic sole with the right sole arch and cushioned support. You can walk for hours in these sandals and your feet will feel just time. That is the Crocs promise. These sandals feel so good that you might not want to take them off.
Synthetic "no rub" material
A leader in comfort
Provides extra bottom traction
Perfect for wet surfaces and floors
Can be worn wet
Ultra lightweight design
Striped midsole
Sporty and classy look
Surfer Sandal Size Chart
Below, you will find the standard sizing for men's sandals. It is recommended that you measure the length of your foot or trace the outline on paper so you can find the right sandal that fits. The sandal length should be a little longer than your actual foot length. For example, if your foot is 10" in length, you should get a sandal that is 11" long.
FAQ
How should my surfing sandals fit?
Your surf sandals should fit snugly but never too tight. Remember that you will be walking a lot in this pair, so you should always make sure the straps of the sandals are not digging into your skin when you walk. Check if the length of the sandal encompasses your entire foot. If there is no allowance between the sole and your foot, your sandal is too small. Conversely, if there is too much allowance, your sandal is too big.
How do I wash, clean, care for my new sandals?
Below are some general tips on how to take care of your new sandals according to material:
Leather
If your sandals are made of leather, you have to make sure they don't get wet. If, inevitably, they do, make sure to wipe them dry with a clean cloth as soon as possible. Leave to air dry in a cool and dark place. Never leave your leather sandals under direct sunlight for a long period of time, as this will cause the leather to toughen or deform.
Synthetic
Synthetic sandals are easier to clean and maintain because they can be used even when they get wet. Just don't leave them frying under direct sunlight as this could cause some particles in the synthetic material to shrivel up or shrink.
Should I get a guarantee on my purchase?
If you are paying a good amount for your sandals, then you should ask for a guarantee. You should hold brands to their promise of long-time wear in outdoor settings. If your sandal of choice does not offer a guarantee, be sure to inspect the product thoroughly for any type of defect that may not be obvious at first glance.
What makes them "surfing/surfer/surf" sandals anyhow?
The quintessential surfer sandals should be the next best thing to walking barefoot. They should look good when you're in boardshorts and when you're in capris; and they should be perfect for wearing in and out of the beach. Surf sandals offer a classic look—nothing too bulky or flashy like other sports sandals. Most of all, they have to be durable and comfortable so they can keep up with your miles of walking from surf spot to surf spot, or bar to bar.
We cannot express enough how important durability and sturdiness is for surfers. If you see the pressure dents surfers make on the tops of their surfboards, you'll know that surfers have pretty heavy feet. Just an ordinary pair won't do for surfers. If you buy yourself a cheap pair of flip-flops, don't expect them to last very long.
Do sandals break-in and loosen up after I wear them or not?
Many people complain about a 1-2 week break-in period whenever they buy new flip-flops or sandals. However, this is a case-to-case basis, meaning, it all depends on the make of the sandal and the natural shape of your foot. Yes, your sandals will loosen up after some use, but this is a minor adjustment to better fit the shape and curve of your feet. Don't worry about your sandals getting too big for you after some time. As long as you get the right size, your sandals should fit you just fine.
Are flip-flops bad for your feet?

When flip-flops first started hitting the major markets, they got a ton of flack for being unsupportive. Today, this is still true with a cheap pair of flip-flops. They can damage your feet because of the lack of support and protection. That being said, many sandals, including those on our list, have tons of support and are made to wear in specific environments. Many of them eventually mold to your feet as well, creating support that is better than some higher-end shoes.


How do I know when to replace my flip-flops or sandals?
Different pairs of flip-flops have different lifespans. Some, you'll find, will last you for years, while some only take one season to completely give out. There are some signs that you should replace your footwear though. These include:

• Soles that have been worn down really thin
• Straps or toe thongs that have become frayed
• Stains or smudges that are permanently on the soles or footbeds
Factors to Consider When Buying
Comfort
Comfort can be pretty subjective though there are definitely certain characteristics that inherently make flip flops or sandals more comfortable that you should keep an eye out for. Some have plush surfaces that are similar to shoes while other are as stiff as boards. The most comfortable types of flip-flops are the ones that eventually mold to your foot after being worn for an extended period of time. Essentially, while stiffer ones can take longer to break in, they typically have a better life than plush ones, as the footbeds on them eventually form to your arch and foot shape.
Versatility
You may want to use your flip-flops or sandals for more than surfing or beach wear. This is typically the case if you don't have a quiver of open footwear for different occasions. For those who just want one pair, you'll ideally want something that you can wear to the beach, climb up a hill with, and hit a nice dinner with after the day is done. Consider where and when you'll want to use your flip-flops or sandals.
Durability
Durability is a hard thing to judge, as you won't really know how durable a pair of flip-flops or sandals is until you've worn them for a few months. That being said, you should definitely check reviews to see how others have held up and keep in mind the materials that were used to manufacture them. You'll typically find that open footwear made with leather or rubber compounds have much better longevity than synthetic material like foam. For this reason, we highly recommend looking into those with rubber soles at the least.
Style
There are many different styles of flip-flops and sandals. If you're getting just one pair, we recommend getting something that looks great for all occasions. This means looking for a simple design that can go with anything. Bulkier flip-flops and sandals that are made of foam are really styled best for those who want to draw more attention to their footwear. Classic leather pairs seem to be more discrete and go better with anything else you are wearing.
Traction
Traction is very important if you'll be doing some hiking around in your flip-flops or sandals as well. Some surf spots require you to hike for a bit to get there. You'll need solid traction to stay safe on your treks to the water. Have a good idea of the terrain that you will be walking on. Are there lots of loose pieces of rock or is it slippery mud? If the tread patterns are deeper, they'll work better in mud, though if you use them on the ground with loose rocks and gravel, it'll likely get caught in your sole. For surfers specifically, a pair that works well in the water is best to consider.
Price
For the majority of people, flip-flops and sandals are considered cheap pieces of footwear. For surfers, however, these pieces of footwear can be worn every day. If you're someone who is wearing them every day, investing in a pair with higher quality materials, orthopedic support, and durable construction will be better in the long run. On the other hand, if you're only using them to walk a quarter mile down to the beach every once in a while, there might be no reason to spend an arm and a leg on a fancy pair.
Proper Care
Your flip-flop or sandal care will really depend on what material they are made out of. Here are some tips on how to care for specific types of flip-flops or sandals.
Rubber Flip-Flops
Rubber flip-flops and sandals can easily be cleaned with baking soda and warm water. We recommend filling a sink with warm water, adding a spoon full of baking soda, and letting them soak for 5-10 minutes before taking them out to scrub with a toothbrush. Not only will the baking soda help to get rid of the grim, it will also help get rid of any nasty odors.

If you don't feel like showing your rubber flip-flops or sandals much TLC, you can easily toss them in the washing machine. If you do this, make sure to use your machine's easiest setting and use cold water rather than hot or warm. As for detergent, only add a small amount. You don't need as much as you would use if you were washing cotton clothes.
Suede Flip-Flops or Sandals
Most people have no idea how to clean suede. If your footwear is made of suede, you can easily clean them with sandpaper. Used in a gentle manner, fine grit sandpaper can remove bits of dirt and grime from the suede material.
Leather Flip-Flops or Sandals
There are a few ways to clean leather footwear. Saddle Soap is an excellent product that cleans, softens, and takes the nasty odors out of leather flip-flops or sandals. This solution can easily be applied with a damp cloth and it leaves your footwear looking brand new!

Just like with rubber flip-flops or sandals, you can use baking soda to get rid of the stink. Instead of scrubbing with a toothbrush though, just sprinkle it on top and leave it overnight.


Final Thoughts – Which Should I Get?
If we had to recommend one pair of sandals on this list, it would be the Men's Premier Leather Sandals from Rainbow. They're some of the toughest and longest lasting sandals out on the market, they look style and simple and can be worn in just about any situation, and they're made of leather, so they will break in and form to your feet much better than synthetic sandals would.

While you may think that flip-flops and sandals are pretty simple and choosing a pair shouldn't require much, you need to understand that quite a bit of design thought goes into most of these pieces of footwear. Most people can immediately tell the difference between a quality pair and a cheap pair and it is important that you can too for comfort and longevity.