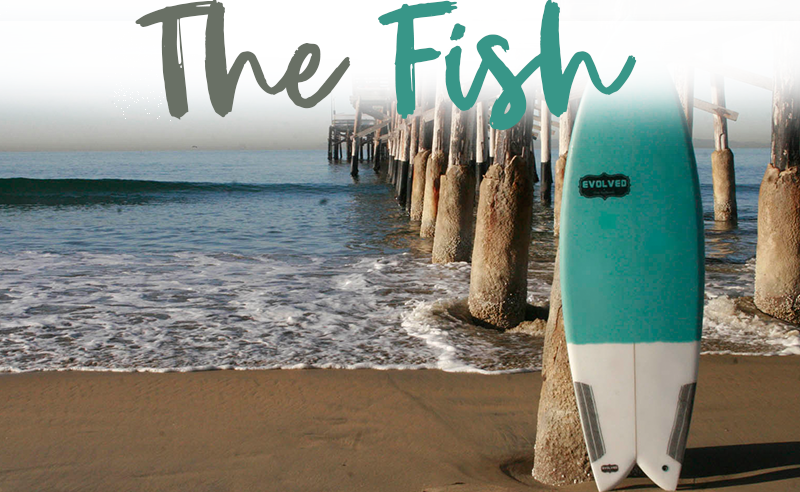 At A Glance: Our Top Picks for Fish Surfboards
Fish surfboards have been hitting beaches since the 1970's and are now a very popular part of most avid surfer's quivers.
More...
Almost 40 years later and the fish surfboard design has evolved into an array of different styles.
Because of this, choosing the perfect fish surfboard for your quiver can be difficult.
You need to ask yourself why you need a fish and if it will fit best with your style of surfing.
If you live in an area where smaller and choppier waves are constant, but you still want to have ample speed, fish surfboards will do you good.
Come dive in with us and we'll show you all you'll need to know about fish surfboards and what makes them so awesome!
What Is a Fish Surfboard?
QUICK OVERVIEW: Our Top Picks for Fish Surfboards
IMAGE
PRODUCT

Great board for all-around surf
Performance focused hybrid soft top surfboards
Wax-Free top deck

VIEW ON AMAZON →

Has the ability to catch smaller and choppier waves
Thick rails help you to stay balanced
Perfect for little groms who are just starting out

VIEW ON AMAZON →

Pretty standard fish design
The bottom is an HD polyethylene slick bottom
The wide template makes paddling very easily

VIEW ON AMAZON →

Great board for all-around surf
Performance focused hybrid soft top surfboards
Wax-Free top deck

VIEW ON AMAZON →

Width of this board gives extra buoyancy for added weight
Flows very nicely from rail to rail
Thruster fins work great on this board

VIEW ON AMAZON →

Fish shape board is wide and easy to ride
Wooden stringers make it stiff and strong
Heat laminated construction

VIEW ON AMAZON →
The 6 Best Fish Surfboards


Our #1 Pick - Gold Coast Surfboards - 6'8 Hybrid Soft Top Fish
The Gold Coast 6'8 Hybrid Soft Top is an instant classic. It's honestly a great board for all-around surf, though really begins to shine when taken out in smaller conditions. The shallow rocker works as a single concave throughout the bottom that is punctuated with a "V" tail for solid release on turns.
When you first get on it, you'll notice that paddling insane foam volume makes paddling a breeze. That doesn't do any damage to the board's performance though, as it carves down the line with great speed, all while allowing you to enter waves earlier.
The bamboo layers and single I-beam stringer make for a rigid board with slight flex so that it is not overly stiff. The performance thruster nose helps you to really stick it to the rail and drive it hard in smaller sections. Besides all that, it is packed with some cool additional features such as the pre-installed GoPro mount on top and fingerprint deck texture that doesn't require any wax. If you're looking for the ultimate foam top fish surfboard, this is it.
BIC Sport DURA-TEC Surfboard
​One of our favorite choices for Fish Surfboards is the BIC Sport DURA-TEC Surfboard. It has got the look of a shortboard, though has the benefits of a fish surfboard. It has the ability to catch smaller and choppier waves though still remains pretty maneuverable.
The thick rails help you to stay balanced on the wave while the "V" on the tail helps you put in tighter turns. The speed that you get is possible through the very light rocker. They packed in a ton of volume for the length of this board, which allows for easy entry onto the wave and the ability to stay afloat once you're on it.
The BIC DURA-TEC Fish perfect for little groms who are just starting out, though if you are a seasoned surfer, you'll love how much of a punch it packs. Sizing is as you'd expect, and if you're over 150lbs, this is probably not the board for you.
CBC Surfboard - 5'8" Fish
​This board is an excellent addition to CBC's lineup of novice boards. The board is a pretty standard fish design with a flat rocker. The bottom is an HD polyethylene slick bottom, which can pick up speed well in flatter conditions. The wide template makes paddling very easily and also helps maintain stability as you move down the line.
The high-density 100% waterproof EPS core is incredibly durable and will hold itself for years to come. The relatively thick rails on this board paired the "V" tail help to keep you balanced even while making carving maneuvers. The other bonus with this board is the XPE deck skin, which gives it a smooth finish while retaining a shock absorbent quality.
Gold Coast Surfboards - 5'8 Hybrid Soft Top Fish
Thank you to Gold Coast surfboards for putting out a fish surfboard design that is great for people of all experience levels! The 5'8" Hybrid Soft Top Fish has a single concave through out the full bottom deck to a "V" in the tail, meaning you can draw out bigger turns with solid release.
What makes this fish unique is that the hand-tapered rails give any rider the ability to cut better in the face of the wave. This board is suited for either groms transitioning from a longer board to a shorter board to adult surfers who just want to have more drawn out lines in smaller conditions. It's tons of fun to ride and works as a great in between for your groveler and shortboard.
The team over at Gold Coast did an excellent job at making it durable too. The I-Beam stringer and unique bamboo layers wrapped around an EPS closed cell foam core, cover the board in full length and make it a rigid and tough board that can take on the harsh conditions that the ocean brings.
​JK Surfboards - The Big Boy Fish 7'3"
The peeps over at JK surfboards have made the ultimate big fish. If you're a bigger surfer, you're going to love this one! The width of this board gives it extra buoyancy for added weight, and makes late drops possible.
It flows very nicely from rail to rail and flies quickly across smaller sections. Thruster fins work great on this board, though we really recommend setting it up with quad fins to get that added speed. It's also 100% hand shaped and finished, which will make surfers who are looking for something with more a custom feel, dig it. Besides being available in 7'3", you can also get this board in 6'8" and 8'0" lengths depending on your size. Make sure to use your own volume as a guide.
Liquid Shredder - Foam Fish Surfboard
This Liquid Shredder board is the perfect example of a novice retro fish surfboard. If you're looking for a grom board that can support up to about 95lbs, this is truly the best fish surfboard for beginners.
You can paddle this thing with ease because of its width and longboard-style nose and catch waves early. The twin fin setup is pretty unique as well in our line of fish boards and really helps the Liquid Shredder rip.
Once you're up and riding, the swallowtail and shallow rocker will keep you balanced and let you maneuver in tighter turns. The Soft Foam deck is pretty strong and will keep your little shredders safe out in the water, especially if they're just starting out.
​Pros
More stable than a shortboard
Easier to paddle than shortboards
Hybrid tails give a mix of stability and control
Easier to catch waves than with shortboards
Bigger rails increase buoyancy
Swallow tail increases speed as water passes through and gives grip
Easy to travel with
Great for smaller and choppier waves
Not as maneuverable as a shortboard
Slower than shortboards because of volume
Bigger rails decrease movement
More difficult to learn on than longboards
Fish Surfboard Size Chart
Now typically we would just do this based on a person's weight, though because fish surfboards span over a wide range, we wanted to take into account a surfer's skill level as well. Here is our simple fish surfboard size calculator:
Retro Fish Surfboards
A Retro Fish lives by its name in being an old school fish design. The board itself is typically wider and thicker and has either a classic twin fin or quad fin set up with a big swallowtail. This makes it very loose to ride. It works great in small surf, as well as mid-sized surf. The nose is a bitt narrower than the hybrid board.
Hybrid Fish Surfboards
Hybrid Fish surfboards can be a number of things. You'll typically find that these are set up for different fin combinations (mostly thruster) and have very shallow rockers with much wide noses. The "hybrid" describes a number of different designs that work best for smaller waves. They can be a bit longer in length when compared to retro fish surfboards and ride with a little more control. In all, they are essentially shortboards for beginners.
---
Frequently Asked Questions
What are some of the main reasons that I should get a fish surfboard?
Before getting a fish surfboard, you'll want to make sure you know what kind of waves you'll be surfing, how good you are at surfing, and if you intend to make surfing an big part of your life. Fish surfboards are great for surfing the smaller breaks that a lot of us see often at our local beaches. It's great because you can surf on days where most people would roll out, see a ton of mushy waves, and roll back home. We're always going to recommend a longboard for beginner surfers as the first choice, though fish surfboards can be great if you are one day looking to transition over to a shortboard. The cool thing is, you'll still get the same paddling ability and stability that you would get with a longboard, though in shorter form. It'll also help you to start maneuvering better than a longboard once you get a feel for your balance.
If you're more of an intermediate or advanced surfer, adding a fish to your quiver can give you a little variety and can help you surf in conditions otherwise un-surfable. Days with small waves can totally blow, though with a fish, you'll still be able to get out and shred, making the crowds of shortboarders super jealous.
Are fish surfboards "kooky"?
Even though surfing can be a ton of fun, it is easily one of the most difficult sports for beginners to feel comfortable with. This is because beginner surfers can feel outcast from the crowd when they show up to the beach with their kooky foam top. Nobody wants to look like the newbie and it can surprisingly take a big blow on your confidence. The great thing is, the fish is an awesome in-between that doesn't make you look like a beginner right off the bat because even experienced surfers understand their purpose and use them when the conditions call for it.
What kinds of fins should I put on my fish surfboard?
Having a specific set of fins on your fish surfboard can really change up how it feels and how you surf on it. That being said, there are pretty much three main fin set ups that you see on these board: Twin, Thruster, and Quad.
The twin fin set up is classic for a fish surfboard, though is definitely the hardest to control of the bunch, especially when you are faced with larger waves. They definitely don't grip as well as thrusters or quads. That being said, if you want to increase your speed, the twin will do that best. It also has a "skatey" and loose feel in relativity to the other setups.
A thruster set up can give you a ton more control over the board because of the added center fin. The added stability makes it much easier to make tighter turns, as well as maneuver in far more controlled fashion. The one negative is that the added fin will slow you down a bit, though that could be a good thing for some.
A quad set up on a fish is a ton of fun and can generate tons of speed and energy as you move down the line. Even while doing that, they tighten up your turns because of how close they are to the center of the board. You'll also get a lot more grip when compared to a twin set up, which gives you the ability to take your fish out in larger waves. Swallowtails can make transitioning from rail to rail a pain, though throw more fins on each side and that can make the process much more forgivable.
In all, we highly recommend a quad fin setup.
How should I transition from a fish surfboard to a shortboard?
When you've gotten comfortable on your fish and want to move on to something with a little more attitude it might be time to take on the shortboard. You won't want to make a quick transition however, as you'll learn quickly that riding a shortboard is a lot different. When you decide you're ready, try and find a shortboard that has more volume so that it is similar to your fish. This will allow for easier entry and better stability. Also make sure that the rocker is less shallow, as the extra speed with less stability and control might be too much all at once. Lastly, don't move to fast into getting a board with thin rails.
Why aren't fish boards good for bigger waves?
There's a difference between big waves and steep waves. If the waves are big yet mushy, a fish should do you just fine. If the waves are giant walls, than you will most like pearl, as fish surfboards aren't built with any rocker to handle it. We definitely recommend taking a day off from surfing the fish is waves are shoulder high.
>> See Our #1 Recommended Fish Surfboard - Click Here <<