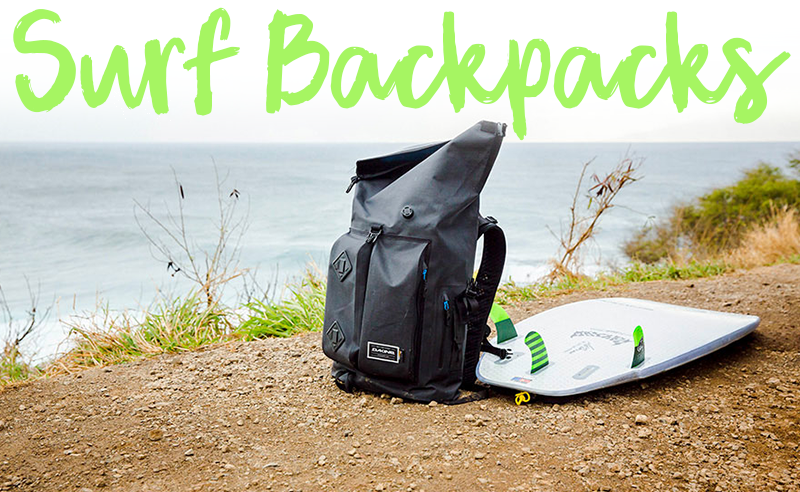 While there are many great normal backpacks out there in the world that you could surely carry your wetsuit and other belongings down to the beach with, the best surf backpacks have many advantages over just a normal backpack...
More...
Surf backpacks are much different than regular backpacks in their design. They typically have extra pockets that are meant for things like wax, towels, leashes, and other surf accessories.
They also typically have a larger, water resistant pocket that you can store your wet belongings in so that they don't interfere with your dry stuff.
After all, you don't want to soak your phone, wallet, or even worse, your dry sweater, after a day of surfing the freezing pacific up north. You want your surf backpack to protect your belongings, keep them dry, and be generally more convenient for you than a regular backpack would.
With that in mind, let's take a deeper look into some of our favorite surf backpacks on the market today.
The ​7 Best Bets
Dakine Cyclone II 36L Dry Pack
The Dakine Cyclone II 36L Dry Pack is easily one of the most reliable and versatile surf backpacks on the market right now. It may be a bit pricey, but the amount of work that was put into it to make it durable and long lasting makes it worth every penny.
Let's start off with the generous amount of space that Dakine put in this pack, at 36 liters, you'll be able to keep pretty much everything with you except for your shred stick. It's essentially the Mary Poppins' suitcase of surf packs. They didn't skimp out on the durability at all, and put 305 denier Cordura HP ripstop along the pack with a hardcore waterproof welded construction. You will never find leakage. We love the addition of the two-way purge valve.
If you have it out at sea, you can use it to inflate the backpack so it floats atop the water, or completely compress it so that you can squeeze it in your trunk when you're all done for the day. There are tons of pockets onboard the Cyclone II, including a mesh side pocket for a water bottle and a non-padded laptop sleeve, which can be great for surf photographers.
Alright, it sounds pretty awesome, but is it comfortable? Well, just ask the ergonomic shoulder straps and back panel with breathable mesh. In terms of surf backpacks, the Cyclone II is pretty much the best you're going to find.

Dakine Cyclone Roll Top 32L Backpack
Though it might have a similar name, this backpack is very different than the Cyclone II. Even with that being said, the design is just as spectacular. It is also manufactured with the same Cordura 305 denier that makes it incredibly durable and is welded in a way that it has a secret pocket. Not only does it hold up well, it also gets rid of the fear of being pickpocketed.
Because it is made with a big roll top pocket, it's much easier to fit all of your stuff inside at once. Even trying to stuff your massive wetsuit in won't be a problem. Unfortunately it lacks the accessory pockets that the Cyclone II has, but the simplicity of having one big pocket rather than a bunch of small ones, can be kind of nice.
The bag is just as comfortable as the Cyclone II with their standard shoulder straps and back panel and even has the waterproof YKK zipper to top it all off. This is an excellent, cheaper alternative to the Cyclone II and is great for short day trips.​
Channel Islands Essential Surf Pack
​

If there were a backpack that was definitely designed with just surfing in mind, it would be the Channel Islands Essential Surf Pack. The built-in accessory dividers and pockets make it very unique when compared to other backpacks in that you can separate all of your small items such as wax, fins, sunblock, and anything else.
They've even included a nice little fleece-lined sunglasses pocket so that you can store your glasses in a safe, scratch-free environment. Built for the adventurer, there are 2 mesh water bottle pockets that hang in the front of the backpack so that they don't get in the way of anything else you might be carrying. With even more space for your wetsuit than the Cyclone II, at an incredible 42 liters, you won't have trouble trying to find space. This 600D Polyester Nylon backpack truly lives by its name in storing all of your essentials for surfing.
FCS Mission Premium Surf Backpack
​

The FCS Mission Premium Surf Backpack is pretty much at the top of the line in terms of backpacks that FCS manufactures. Like the Channel Islands Essential Surf Pack, it is designed specifically with surfing in mind, and is packed with tons of cool stuff. You can easily fit your wetsuit into this 43L backpack. It also has a front pocket that is a bit smaller, but is lined with the same internal mesh sidewall to keep things dry.
This pocket also has what they call a lined "wet zone" that comes with drainage holes, a unique feature for FCS. If you look near the back of the pack, you'll see that it has a barely noticeable laptop pocket that is lined with neoprene and has a suspension harness to keep it in place while you're trekking. That's not all for the pockets though! You also have two fleece-lined pockets that are perfect for things like sunglasses or cell phones and a handy four-way side pocket that even has a special place for something like a passport or wallet.
Because it was built with surfing in mind, FCS decided to add storable polyester raincoat covers for trekking through wet areas. Take this off when you get down to the water and you can also use it as a nice changing mat or additional wet bag. FCS didn't stop there. They put a lot of thought into keeping this travelling backpack comfortable, so they added high-density foam shoulder straps, aluminum-reinforced back support, and a set of padded hip protectors, which all provide tons of comfort and breathability. So yea, this thing has tons of features and is perfect if you're a nomadic surfer who needs a backpack that can take the long road with you.
Dakine Point Wet/Dry Backpack
If you're looking for a solid surf backpack on a budget, the Dakine Point Wet/Dry Backpack is a great place to start. The waterproof pocket is a bit smaller at only 29 liters, though that is still ample room to fit your wetsuit at least. There is also a front organizer pocket that is perfect for smaller accessories like your phone or wallet and a fleece-lined pocket that is great for storing your sunglasses. The feature we would most like to direct your attention to is the skateboard strap at the front.
This makes it versatile for those out there who maybe like to skate to and from the water, or even want to use the backpack outside of the surfing world. There are two mesh side pockets located outside the bag that you can store water bottles in as well. We highly recommend this backpack to someone who is a surfer or skater, but also might want to have a backpack that is a bit more casual and less expensive than the other hardcore surf packs on our list.
RVCA Astrodeck Surf Backpack
​
The RVCA Astrodeck Surf Backpack is an excellent backpack that comes with a wide array of features to keep your surf accessories nice and organized. There is a large outer pocket that is built for storing your wetsuit and it is built to keep it totally separate from all of your other belongings. It's nice having it on the outside as well, as you don't have to worry as much about mold growing.
The main dry compartment comes with a padded 15" laptop sleeve, an internal organizer, and even has a removable water resistant dry bag that you can use if you need to store some extra wet items separate from everything else. It's very handy.
You'll also fined that the side water bottle compartments are very helpful, especially because they are built with 210D Nylon Polyester lining, just a step down from the 450D Nylon Polyester lining that covers the rest of the bag, instead of a mesh material that might be easier to tear. Besides that, there are a few extra little side pockets at the top and front, which are great for smaller items like sunglasses or wallets.
There is some serious versatility here. It only comes in one color (black), though is a great bag for surfing and beyond. We highly recommend this backpack for anyone looking for something a bit more casual like the Dakine Point Backpack.​
O'Neill Psycho Surf Backpack
You've definitely heard of O'Neill's top-of-the-line Psycho wetsuits, though you probably didn't know they crafted a backpack to go alongside it. Well they did, and it is just as strong as any of their wetsuits with its 100% polyester build. It also comes loaded with different pockets, making it an extremely versatile pack. With 40 liters of space, you'll have more than enough room to fit a large wetsuit. Because it is a roll-top design, it is also much easier to access everything in your backpack and keep it nice and secured when you get it packed in.
Some of the accessory pockets on this backpack include a pocket dedicated to wax and a side pocket for fins. On the back and to the side, you also have a 15" laptop pocket sleeve and a passport panel right next to that. It's a backpack built with the urban travelling surfer in mind. Like all O'Neill surfing products, this bag is made to be high quality and long lasting. It is very comfortable to wear and will truly last you for years of use.
DryTide 50L
The DryTide 50L waterproof backpack just might be the ultimate backpack for the traveling surfer. With it's 50 liters of volume in the main compartment you can easily use it as your go to backpack for multiple day surf trips and travel in general. Being 100% waterproof (you can literally drop it into the sea), it will also protect everything you are taking with you. Instead of having a backup dry bag or a smaller pack for those wet parts of the trip, you can have your whole gear protected from weather and sea at all times.
Depending on how much things you carry with you, you can deflate it (leave all the air out of the backpack) and use the fold down top to adjust the size of the backpack. This way you can still easily use it as a carry on (tested during trips to Indonesia, Mexico, France…) if you travel includes airplanes. And if you are one of those people who always bring back souvenirs from the trip and your luggage is always bigger on the way back, the fold down top gives you plenty of space for all those t-shirts you bought in Bali or even a Mexican blanket from Baja.
Backpack is made out of heavy duty waterproof fabric using welding construction meaning there are no stitches in the vital areas making this backpack completely waterproof.
Back, shoulder straps and hip belt are padded with non water absorbing foam making the backpack comfortable to carry as well as making sure it dries as fast as possible.
When it comes to features this must the be most feature packed backpack out there – it has two external pockets for quick access items. They are both equipped with high quality rainproof zippers that even though they are only rated as rainproof in real life stop the water even when backpack is dropped into the sea. Side mesh pockets can be used to carry water bottles or can be combined with the side straps to attach and carry tall items at the side of the backpack. If you can not leave home without your laptop there is also an internal removable laptop sleeve. Whatever you are looking for the DryTide 50L has it.


Things To Consider When Purchasing A Surf Backpack
Purpose of Use
Why do you need a surf backpack? Do you need it because you want a backpack that is separate from your normal backpack that is solely for surfing? In that case, you might want to look at something like the Channel Islands essential surfing backpack. Do you want a backpack that can be also be used to go to school, work, or just for daily transport in general? In that case, you might be better off looking at a backpack like RVCA Astrodeck Surf Backpack. Think of why you need a surf backpack before even thinking about purchasing one, as there are many different types out there.
Water Resistance
A solid water resistant backpack can be exposed to water without it getting inside the bag. When we say exposed, we don't mean dunked in the ocean. We just mean you'll be safe from any sprays or rain. These are best if you'll be keeping it ashore or live in mostly sunny places. However, if you want something a little more hardcore that you can take into really wet environments, you should look into waterproof backpacks. These are great for taking into heavier rain environments or onto boats. The last tier of backpacks are those that are 100% waterproof. These can literally go for a swim with you while keeping everything dry. They are typically made to be buoyant and obviously cost a little more. So yea, consider your environment.
Size
Are you a big dude with a big wetsuit? You might want to go for a backpack that is at least 40 liters, Do you need something that you can take out for more than a day? Usually backpacks are labeled for day trips, or people will review them as such. Consider the size, but also know that the bigger the backpack, the bigger the pain it might be hauling around.
Weight
That's a good segue into the weight. You'll probably already be hauling around a ton of stuff in your backpack. Why get a backpack that just adds to that weight? It's a characteristic of backpacks that many people seem to overlook before buying them. If you have the luxury of doing so, we would recommend going to try some on. If you can't, at least look at the weight and save your back later down the line.
Material​
The material of the backpack can say a lot for it. Not only will it determine how water resistant or waterproof the bag is, but also how lightweight and durable it is as well. Some backpack materials that you'll likely find out on the market include:
Cotton Canvas: Putting these two types of material together into one bag to give you the best of both worlds. Canvas is a tough material that has much better waterproof properties than cotton, while cotton gives the bag a lightweight and soft-to-the-touch feel. This means it's right in the middle when it comes to weight and water-resistance. They are also typically the cheapest bags.
Park-Cloth Nylon: If you have ever seen backpacks that have that a shimmering, vinyl-style look, they are probably made out of park-cloth nylon. Park-cloth nylon is made to be resistant to punctures and is also more waterproof than cotton canvas.
Corduba: Corduba is essentially nylon that has been injected with air. So not only does it have the water and puncture resistant properties of park-cloth nylon, but it also a lot lighter in weight. You'll find that some of the top surf backpacks out there are stitched with Corduba.
Polyester: Polyester is right up there with Corduba in terms of durability and water-resistance. The other great thing about polyester is that it has UV-resistant properties as well. This is why you see so many surfboards made with polyester.
Po​ckets​
Are you a simple guy or gal that just likes one big pocket or are you sick of trying to sift through a big pocket to find all your belongings and would rather have them nicely divided into their own little pockets and compartments? For the most part, we assume that the majority of people like to stay organized. After all, do you really want to keep your melting bar of wax next to your prized wetsuit? Didn't think so. If you're looking for a backpack specifically for surfing, we would highly recommend going with one that has built specific accessory pockets.
Comfort​
This is another factor that is overlooked much of the time, especially when buying backpacks online. After a day of surfing, there's nothing worse than the long hike back to your car with an uncomfortable bag slung over your shoulder. This is why it is very important to have something that feels natural and comfortable when carrying it around. One of the ways you can look for a comfortable backpack is seeing if it has padding along the straps. You also want to check to see if there are multiple straps for your shoulders, back, and waist. Having multiple straps along the backpack is a great way to stay comfortable and distribute the weight of your belonging evenly across your body. One thing many backpack manufacturers are doing now is adding breathable backrest pads that have the ability to move air across your back. This can keep your back from getting sweaty, an unfortunate occurrence that most of us know all too well. It's never smear to forfeit comfort for style, especially with something like a surf backpack.
​Budget
Buying a good backpack is all about value, especially if you're like most of us who don't have the disposable income to put half a paycheck on a backpack. The amount of money that you put into the backpack should correlate to how much you actually use it. If you're going down to the beach everyday with your backpack and truly use all the extra features, then buying a more expensive backpack may be worth your while. On the other hand, if you're a casual user, why spend the extra money on something unnecessary? This isn't to say cheap out on a backpack and get something that will fall apart in a week, but don't blow your life savings.
---
Frequently Asked Questions
What items should I plan to pack in a surf backpack?
When looking for a surf backpack, you want to make sure it has enough pockets to fit all of the surfing essentials. Here is a small list of things that we believe you should have in mind when looking for a surf backpack:
Wax and Comb
Fin key to tighten and loosen screws
Extra leash in case your other one breaks
SUNSCREEN!
A towel
An extra pair of dry clothes
Flip flops, sandals, or swimming shoes
Snacks and drinks
First Aid Kit
Wetsuit
How do I clean my surf backpack?
So you've had your surf backpack for a while and it is starting to look pretty nasty. The best thing you can do for your surf backpack is spot clean it. Begin by taking a damp towel with some mild soap or detergent and wipe down your bag. If your backpack is made with materials like nylon or polyester instead of cotton canvas, you'll have to use a bristled brush rather than a damp towel.
Most people believe it's okay to just throw your backpack in the wash. We would strongly recommend against it. Just because the majority of the backpack may be made with washable fabrics, some materials like waterproof materials or stitching might get ruined with heavy detergent exposure. It could also cause colors on certain bags to bleed. Putting it in the dryer is even worse and will totally ruin your backpack.


How is a backpack measured?
The volume of a backpack is typically measured in liters. This is how much the backpack can hold inside of it, not the size of the backpack itself. The actual size of a backpack is measured in length, width, and depth. This is important to know because it is how it will end up fitting on your body. While most companies will take the main pocket into consideration when measuring the volume, some companies will go as far as to measure the random outer pockets like water bottle pockets when stating the volume. Always be careful to read up on the volume and make sure you know exactly what is being measured to see how big it is.
What size of backpack should I get?
For a daypack, you can look for backpacks that are between 10 and 30 liters. Most of the time these are great if you're not trying to store a wetsuit, or are just going on a small hike for the day down to the water.
Overnight backpacks should be anywhere from 30 to 50 liters. These are best if you're taking two-day surfing trip with some camping involved. This is also a good range to work in if you're looking to store your wetsuit.
Weekend packs are for the weekend warriors who will be conquering the ocean for a couple days at a time. For these backpacks, you should look for sizes between 40 and 70 liters. These should be just enough to store a few pairs of clothes, an adequate amount of food, and all your surfing essentials.
Out for the week? Multi-day packs are the best. These can be anywhere up to 110 liters. Any time spent away that is more than a few days should be spent with a multi-day backpack.
As for the length of a backpack, it should be from the base of your neck to the top of your hipbones at longest. If it is any longer than that, you will be in for a world of pain, especially if you're taking a longer trip.
Conclusion
Surf backpacks are essential for any avid surfer. Unlike regular backpacks, they are meant to withstand the elements and keep all your gear in check.
Don't make an impulse purchase on a surf backpack. You want to make sure that you understand your needs so that you don't purchase anything unnecessary or purchase anything that won't safely and practically get you and your gear from the house to the ocean and back.
Have fun this summer and we hope that you find the best surf backpack for you!