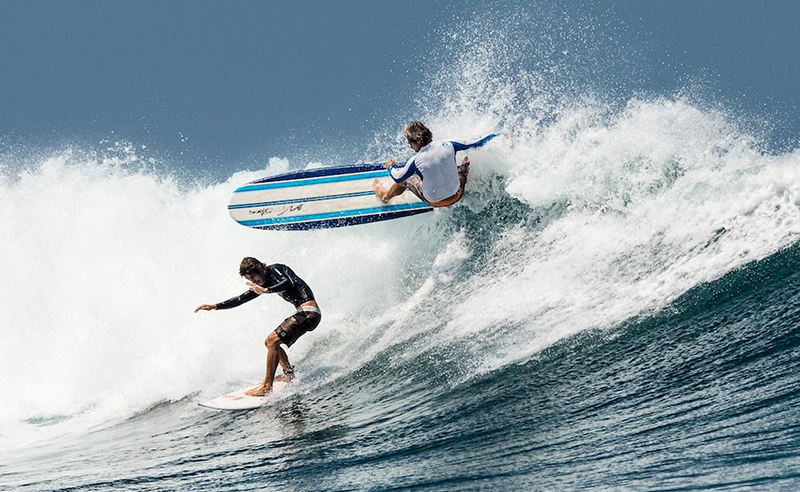 The Wavestorm surfboard is easily one of the most popular surfboards in America right now and many core surfers are asking, "Why?" Well, for starters, a board priced at a third of what competitors are asking for their soft-tops is pretty awesome for most casual consumers.
This is why they are selling more than half a million of these boards annually.
Pair that with the fact that you can break one and return them to Costco for a full refund and you've got yourself a board that has serious value.
Inception
Matt Zilinskas, the Vice President of AGIT Global, the brand that produces the Wavestorm board, started his journey in the watersports world at Wham-O. In 2006, he brought the idea of the Wavestorm board to a Taiwanese businessman named John Yeh. They agreed that the idea was solid and began the board production right away.
They began using Costco as the distribution point, as it was much easier to collect money from the big box chain than from small surf shops around the coast. Zilinskas has also noted in many interviews that the reason why the Wavestorm saw so much success was because of the success Costco had already found in their own business model. Whether or not you agree with Corporate America coming in and taking business away from mom and pop surf shops is a different debate. The classic 8-foot Wavestorm board now accounts for 90% of Costco's Wavestorm sales, even though they have plenty of other Wavestorm products.
Wavestorm Expands
As the company began making more money and selling more boards, like any good company, they expanded their product line. Wavestorm now has a large line of stand up paddleboards, bodyboards, apparel, and accessories including board socks, plastic fins, and leashes.
Where Can You Buy A Wavestorm Board?
While Wavestorm was long a Costco exclusive, you can buy them on Amazon in the present time. We're not sure when, why, or how the deal was struck with Amazon, though as the public moved into the online consumer sphere, they probably felt that the deal was necessary to keep sales up.
Are Wavestorm boards quality boards?
The biggest surprise to many surfers was that Wavestorm boards were actually constructed from quality materials. The biggest reason they were so cheap is because they were only going through one sales channel.
This allowed them to pump out a huge volume of surfboards at a very low cost compared to other surfboard manufacturers. That being said, it's very much possible to take these boards out on bigger waves and surf them like you would a top-tier soft-top surfboard.
Final Thoughts
Though many surfers have a disdain for the company and their boards, Wavestorm will likely not be leaving us anytime soon. The boards are some of the best for beginner surfers and tons of fun for advanced surfers who just want to get out in the water for a little fun. Surf schools use them, groms are able to ride them, and we expect them to keep expanding until serious surfers forget where they came from and give them a chance.
The best thing about Wavestorm is that is has helped introduce people to the world of surfing who would have likely never made the jump without it. After surfing the Wavestorm and getting their footing, these newbies eventually step up and purchase better boards from legitimate surfboard manufacturers. It's a snowball effect that many surfers never think about. Whether you love it or hate it, the Wavestorm is here to stay, and we hope that everyone gets to try one out at least once in their surfing career!