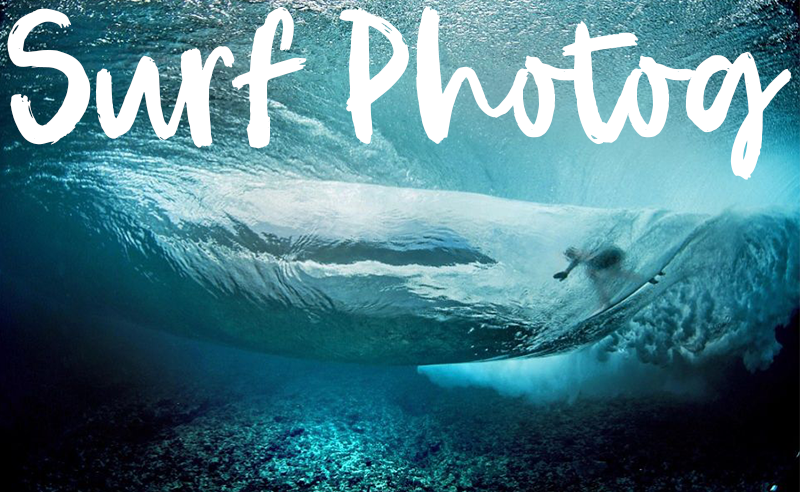 Looking for the best camera for surfing photography is much different than looking for the best camera for general nature or sport photography.
There are many different factors that you have to consider. Surf photography is somewhat unpredictable, just like the ocean.
More...
You never know when a surfer is going to catch that perfect wave, or even when that perfect wave is going to come. So to begin, you'll need a camera that can focus and shoot quickly so that you can capture those perfect moments.
Secondly, you'll need some sort of waterproof casing or body on the camera so that you can get up and personal with surfers rather than trying to shoot them from the shore.
If you plan on capturing the action in the water and not land, see our article that covers the best video and photo cameras that can mount to your board, helmet or handheld.
In this article, we'll be looking at camera bodies, video cameras, backpacks / cases, lenses, and other accessories or considerations to make when purchasing a solid surf camera. Let's get going so you can get shooting!
Our Favorite Surfing Camera Gear
Fast, Mirrorless Design With a Wide Variety of Lens Capability
24.2 APS-C Exmor Sensor
4K Movie Recording
---
Fits One DSLR, 2-3 Lenses, Laptop, and other Accessories
Padded Camera With Full 180-Degree Access
Additional Cover Flap for Extra Security
---
FAA Maximum Carry Size Case
Watertight, Crushproof, and Dustproof Design
Open Cell Core and Foam Design
Best Surf Camera
Sony Alpha a6500
The Sony Alpha a6500 is now being paraded around the web as one of the best options for surf photographers. After much doubt, we decided to check them out. Surprisingly enough, this mirrorless camera lives up to all the hype. One of the coolest features on this camera is the electronic viewfinder that allows you to preview your images before you wrap up for the day.
There is nothing worse than shooting a wave you think you caught perfectly, only to get home and find out you missed the apex of the action. Not only that, but the viewfinder is also touchscreen, meaning you can focus on a single point in a shot by touching it with your finger. The buffer is great for surf photography, as you can shoot at a very high burst rate for almost 10 seconds non-stop.
If you've ever browsed through surf magazines and caught the awesome sequence shots that these guys get, that's how they're doing it. If you decide that you want to shoot video with this thing, know that it has 4k-resolution and in-body image stabilization. Those are definitely helpful for video though if you're planning to purely shoot photos that might not be a big deal to you. Lastly, while not a waterproof camera, there are TONS of manufacturers who have made waterproof housing for the Sony Alpha a6500. So if you're looking to get right in thick of it, know that there is no shortage of accessory housing to purchase alongside this camera.​

Canon EOS 80D
The first thing you'll notice when you pick up the Canon EOS 80D is the rugged body that is weather-sealed. This is pretty much Canon standard, and something we've always loved about them, that makes it perfect for outdoor photography.The dual pixel auto-focus was one of the more prominent upgrades and comes equipped with a vast array of focus points so that you can focus on your surfing subject quickly without poking around the screen.
Comparing the viewfinder to the previous models, the Canon EOS 80D has 100% coverage, meaning the photo you take is the photo you can see right away. It takes much of the guesswork out of shooting. Because of the built-in Wi-Fi and Bluetooth capabilities, when you take your first shot in the water, you can send it back to home base right away.
This is extremely helpful in surf competition photography when you need to get your pictures out to the Internet before everybody else. The body is pretty portable and requires waterproof housing like the Sony Alpha a6500, though there are many housing options available so it shouldn't be a problem. Lastly, being a Canon camera, there is a massive range of lenses available that are compatible with the EOS 80D, so no shortage of shooting possibilities.
Best Surf Video Cameras
GoPro Hero 6
​ GoPro has been at the top of the game for surfing and action sports video for quite some time now. With the introduction of the Hero 6 back in 2017, they nailed it once again. The 4k60 video is absolutely gorgeous, and the fact that it is packed into a tiny but tough waterproof camera, is also amazing.
With this new upgrade, GoPro added a few big features like the QuikStory, which allows you to string together video quickly on the GoPro app to share online, and the shooting quality with wider dynamic range, better low-light shooting capabilities, and an all new digital zoom. The all new GP1 process allows you to shoot at double the frame rate of the GoPro Hero 5 and also helps to stabilize video better than ever so you can stop messing around with settings and get to shooting.
Usually companies to shoot for the moon with their upgrades, but GoPro did and we thank them for it. Not only is the camera awesome, it is very portable and there are tons of accessories out there like surfboard attachments and bite mounts.
Canon VIXIA HF R700 Camcorder
​While the GoPro might be great for action sports, it isn't necessarily the best all-around camera. If you're looking for something to use in and out of the water, the Canon VIXIA HF R700 camera might be what you're after. Extremely sharp and steady video quality, the 1920x1080 gives you insane resolution along with the full HD CMOS image sensors.
Great for regular video recording, and also excels in the slow motion department if you're after a solid slow motion barrel shot. The image stabilization on this camcorder is better than the GoPro Hero 6 and it also comes with a more powerful zoom, which is still a new thing for GoPro.
That being said, it is certainly not as rugged as the GoPro and is not waterproof out of the box. If you're looking for a camcorder that is more of a classic design with the flip LCD screen and a more easy-to-navigate menu and motherboard, the Canon VIXIA R700 Camcorder is a great option. Plus, as with most Canon camcorder, there are many available accessories.​
Best Backpacks and Cases
Lowepro Fastpack 250 DSLR Camera Backpack
​ After a quick glance at the Lowepro Fastpack 250, you might think, "wow, what a boring looking backpack". True, it's not the prettiest thing in the world, but it is what's inside that counts. Plus, wouldn't an "obvious" looking camera bag be more of a target for lurking thieves? The Fastpack 250 is the perfect bag for DSLRs and comes in your standard backpack profile.
Not only do you have room for camera equipment, but also enough room for a 15-inch laptop, perfect for the outdoor adventurer who needs all their gear in one place. Lowepro is famous for their quality backpacks, and the 250 offers the durable nylon fabric, intricate stitching, and thick padded inner walls, that make it a safe and secure place to hold your expensive gear.
The inside is built with smooth polyester to keep your gear scratch-free, and the divided compartments have built-in Velcro so you can make sure your stuff stays in place. Large enough to hold a big DSLR, a few lenses, a flash, and other camera accessories, this is an awesome all-in-one bag that even comfortable to wear with all of the outside padding.
Altura Photo DSLR Camera Backpack Bag
​One of the main reasons that Altura DSLR Camera Backpack is such a great backpack for surfing is that it is made from a bunch of water-repellent materials. The Nylon build is not only very durable and long lasting, but because of the three-dimensional padding on the back, is also far more breathable than many bags.
Like the Lowepro bag, the Altura Backpack is able to hold one large DSLR with a few lenses, a flash, additional accessories, and a laptop up to 13", as well as a small tablet if you so choose. The different pockets are equipped with dividers and Velcro fasteners to ensure your stuff stays in place. As for comfort, you are able to adjust the waist and shoulder straps to ideal lumbar support for ease in travel. Lastly, you have a nice pocket that flips out which is perfect for tripods.
​
Pelican 1510 Case With Foam
​Pelican is one of the top brands in protecting and transporting expensive camera gear. Extremely rugged and durable with its open cell core and solid wall design, you can take this case just about anywhere you can think of. Thanks to the O-Ring seal, the Pelican 1510 is completely watertight and dust proof.
While the stainless steel hardware and padlock protectors might keep intruders from getting in and taking your gear, the double throw latches are easy to open up when you need to access your gear quickly. This is much different from the other camera bags we've discussed, as it is more like a trunk than a bag. Luckily, it is pretty easy to take with you, as it comes with a retractable extension handle and durable polyurethane wheels.
The one downside to the wheels is that they don't move very well over sand, so that can be a bummer if you're trying to get close to the water and you don't have anyone to help you carry it. Other than that, this is one of the best for travel (especially on plane flights with its automatic pressure equalization valave) and also offers an insane amount of storage space with the addition of mesh pockets for accessory storage.
Pelican 1560 Case With Foam
​Just like the 1510 model, the Pelican 1560 is made to be nearly unbreakable. It is pretty much the perfect case for protecting your gear from the elements. The copolymer gives it insane durability and is also totally protected from corrosion. They even put a neoprene O-Ring inside it to keep it watertight, dust proof, and pretty much anything and everything proof too.
While it locks up tightly for safety, the double throw latches are easy to flip up for quick and easy access. Like the 1510, this also has built-in automatic pressure equalization that makes it perfect for air travel or travel from one extreme temperature to the next. The built-in wheel are strong too, though again, aren't very easy to roll over the water. When you are rolling it along anywhere else though, the rubber molded extension handles make it comfortable to carry along.​
Best Lenses For Surf Photography From The Beach
The Sigma 30mm f1.4 is perfect for shooting long range from the beach. This APS-C optimized lens is extremely sharp and captures colors very well. It's also very quick to focus, as that can be very important when trying to shoot from the water. You'll definitely need to calibrate it to get solid autofocus, but once you do, the photos come out great. The overall image quality reminds us of some of the higher end Canon lenses. One of the biggest downsides to this lens is that there are very apparent vignettes in the corners, so if you're looking for a true full frame lens, we wouldn't shoot for this one.
Another great lens with some serious image quality is the Zeiss Trout 32mm f/1.8. It is definitely a step up from the Sigma 30mm f1.4 and comes at a solid price point too. The build quality is solid as well, and very durable when out in the field. The one main thing that we love about it is that it is very simple and doesn't have a bunch of bells and whistles to worry about. The manual focus is pretty solid too.
If you're working with an APS-C mirrorless camera, the best and most obvious choice for a lens is the ​Sony 18-105mm f4 G OSS zoom lens. The images that we see captured from this lens are easily some of the sharpest out there. After all, you need a good internal zoom and focus if you're shooting from the beach and you don't want the zoom to sacrifice the picture quality. The zoom function might be something that you have to get used to, as the functionality is much different than typical zooms, but it shouldn't be long until you're shooting is second nature.
Best Lens For Surf Photography In The Water
If you're looking to get a "fish-eye" view from out in the water, one of the best lenses we can recommend is the Rokinon 8mm f2.8 Fisheye II. With 180 degrees in the field of view (essentially a 35mm camera focal length), this is a great lens that pretty much matches up to what you would find on one of your favorite GoPro models. The aperture on this lens is very quick making it great for low light ocean shots. The color on it is also very vibrant so you can capture every nuance of the ocean.
For a lens that isn't quite as niche like a fisheye lens, the Sigma 30mm f/2.8 DN is pretty awesome. The images on this lens come out very sharp for a lens within this price range. It is also extremely compact at only 1.6 inches long, and super lightweight, meaning travelling with it will be a breeze. The autofocus is quick, the distortion is well controlled, and overall, it is an awesome inexpensive lens that you won't feel too bad bringing with you on your surfing excursions.
Factors To Consider When Buying
Looking for a solid surf camera is pretty much the same as looking for any great action sports camera. Whether you are in the water or out, there are some definite things to consider.
Durability
Its obvious that surfing has its wipeouts, so if you're looking for a camera to bring with you while you're out in the water, then there is no question that you'll need one that is durable. Even if you're not out in the waves, just being at the beach can be hard on your camera. You have sand, wind, water, and all the other elements that could creep inside of your camera and ruin it. A body that is weatherproof in some way can be very helpful in that fact. GoPros are known for their durability.
Ease of Use
While many tech heads might not mind having a million menus to sift through for endless possibilities in shooting, much of the time simplicity can be best. This goes hand-in-hand with being able to utilize auto focus in situations where you don't want to take the time to figure out the lighting and such.
Wi-Fi or Bluetooth Capability
Many modern cameras use Wi-Fi or Bluetooth so that you can immediately export your photos from your camera to your phone or other device. This is great if you want to capture and upload things in real-time and be the first to have your content online.
Size
Do you want your hand to be uncomfortable after an hour of shooting? Probably not. But does that mean you need some micro-sized camera? Absolutely not! Just make sure that you try and find a camera that isn't too heavy and also look for an ergonomical design that fits comfortably in your hand.
Quality of Photos
This should pretty much be a no-brainer. When looking for a great surf camera, the two main things that you'll want to consider in terms of photo quality are the resolution and the frame rate. If the camera has great resolution, you'll be able to capture photos and videos that are crystal clear and vibrant. On the other hand, the frame rate is what makes video footage look smooth. Having a mix of both is ideal.
Memory
Having ample memory can be helpful if you are out shooting for long periods of time. There's nothing worse than filling up your memory card rendering your camera useless for the rest of the day. Whether you want one that utilizes micro SD or standard-sized SD is totally up to you. You should be looking for how many it can hold at once.
Battery Life
There are high-end cameras out there that shoot like a dream but require a charge after just about every use. This can be annoying, especially if you're out shooting remotely and have nowhere to charge. Try to make sure you find a camera that doesn't suck the life out of a battery in a few hours if you can.
Accessories
Cameras like Canon seem to be universal when it comes to accessories. They have accessories for just about anything and everything you could think of from waterproof housing to mounts to lenses and beyond. This is especially important if you want to make the most out of shooting in the water.
Tripod
Tripods can be a major advantage to just about any situation. It can especially be helpful in surf photography, which requires much time and patience. There are many great reasons to have a tripod that you may have never thought of. It allows to compose your shots in a steadier manner, it helps to shoot great panoramic shots or shots that require a camera to stay in position for long periods of time, it helps with zooming from long distances, and it can also help fend off a shark. Okay that last one was a joke, but you get the point. Get a tripod!
Wetsuit
If you want to get in on the action with the surfers, you're going to have to think like a surfer. Having a wetsuit will help you to swim out in to any temperature conditions to shoot. It will also make it more enjoyable to shoot in the water, even if the temperature isn't unbearable.
Swim Fins
A pair of swim fins can be very helpful if you're a photographer who is out in the water for long periods of time. Pretty much every competition surf photographer out there wears a pair of swim fins when shooting. That's pretty much the only way that they could be out treading water for hours at a time without tiring out.
---
Frequently Asked Questions
What are the differences between the 1560 and 1510 Pelican Cases?
Though they might look pretty similar at first glance, the 1510 and 1560 Pelican cases have a few key differences that you should note. For starters, the 1560 line of cases is much larger than the 1510 and cannot be taken on an airline without checking while the 1510 is just small enough where it falls below the threshold of what you can carry on. The Pelican 1650 also has a wide range of colors if you want to go beyond the basic black. As you can guess, because it is bigger and more versatile, the 1560 also costs more.
Should I purchase a DSLR or Mirrorless camera?
Both of these cameras have their own pros and cons and it really comes down to what you're personal preference is. That being said, let's get down to the foundational differences. DSLR cameras typically run bigger as they require a mirror and a prism, as a mirrorless camera does not by design. If portability is your need, definitely look for mirrorless. DSLR cameras are superior when it comes to low light shots and autofocus speeds, which is pretty necessary when you're shooting quickly like in surf photography. If you're looking to shoot video, we recommend going for a mirrorless camera. They typically have much higher resolution when shooting video and have phase detection. We could go on forever talking about the smaller differences, but we'll save for that for a different article.


How can you choose the right underwater housing for your camera?
Companies like Canon offer underwater housing for their own models of cameras, though if you find yourself with a camera that doesn't have a manufacturer for underwater housing, you'll have to look at some third party housing cases. If you're looking to go a little further under the water than you would for surfing, you're going to want to check the depth rating. See what the materials are. There are plastic housing cases and aluminum housing cases for the most part. Plastic is cheaper and a bit bulkier. Aluminum cases are more expensive and very rugged. Getting underwater housing can really change your perspective on shooting and we highly recommend getting one!
If I'm shooting video, should I go for a camcorder or DSLR?
While most people might sway towards camcorders, as they are the most traditional in terms of shooting video. DSLRs on the other hand, are what we are beginning to see most professional photographers shooting with. They tend to have better sensors and image quality, meaning you can get tons of shorter, high-quality clips when compared to a camcorder. On the other hand, camcorders can shoot for much longer periods of time and tend to be lighter and more comfortable to shoot with. Those are some basic things to think about when trying to decide between the two.
Final Thoughts – Which Should I Get?
For the value alone, we'd have a hard time recommending anything better than the Sony Alpha a6500. It's well within the price range that most people can afford and packs quite a bit of power.
The frame rate on the a6500 is unbelievably fast for the value and its one of the best in terms of autofocus, sensor size, and FPS.
There are tons of available accessories and lenses for the Sony Alpha a6500 so you can keep growing with it, even when you're done.
However, that is just our recommendation! If you find something that you're in love with, go for it and have a great time shooting!