One of the best things about being a boogie boarder is how boogie boards have become ubiquitous.
Today, you can buy the best boogie boards at a branch near you. Higher accessibility means that more people can start getting into the sport.
If you are one of the adventure-seeking individuals who are thinking of getting into the fun world of bodyboarding, you will need to know how to pick out the right kind of board for you.
Best Boogie Boards For All Skill Levels
[go_pricing id="costco_bodyboards"]
Mach 7 Morey Boogie Board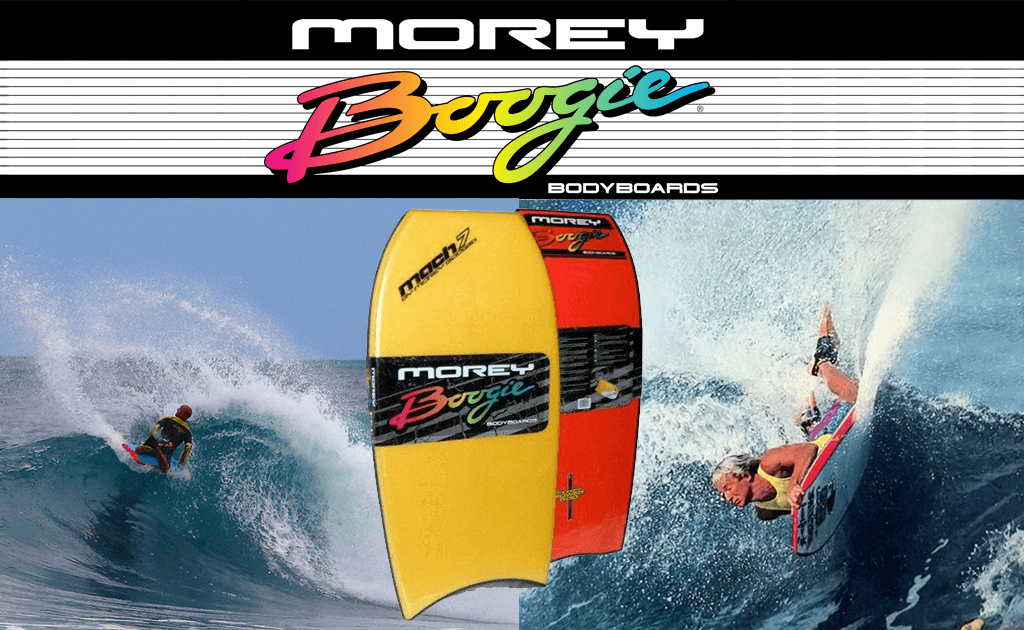 Known as one of the most dependable all around boards in the market, The Mach 7 Morey Boogie Board will surely deliver the fun and performance you need in the water.
The Mach 7 (and actually the entire Mach series) revolutionized the bodyboard and industry as we know it. There is no other board that has changed the industry like this one has!
So it is no wonder that this board deserves to be at the top our list and it is readily available on Amazon. This board became hugely popular in the 80's where beginners to paid professionals that bodyboarded for a living all rode the Mach 7!
>> CLICK TO CHECK CURRENT MACH 7 PRICE AT AMAZON.COM <<
Even till this day, most of the most advanced boards take after the Mach 7.
This board has quite the summary of accolades and a rich history so I can not talk it up enough but it's all true! So definitely check this one out and for how awesome of a board it is it's actually very affordable.
If you would like to learn more about the 7 and entire model history, I posted a full write-up about it here.
Super strong PE core
Power Rod Stringer
50/50 rails
Slick HDPE bottom
Graduated tail channels
Trademark clipped crescent tail design
---
Phantom Body Glove Boogie Board
Do big waves excite you? You'll need a board that can keep up with you in those above average conditions.
>> CLICK TO CHECK CURRENT PHANTOM PRICE AT AMAZON.COM <<
The Phantom Body Glove Boogie Board is a very responsive board that marks high in maneuverability and flexibility in the water.
41 inches long
Standard crescent-shaped tail
Extra dense IXPE core
Comes with a urethane leash
Provides better control for choppy conditions
---
Wavestorm Boogie Board 40"
Don't underestimate this lightweight board because it packs the same performance and durability as the other boards.
>> CLICK TO CHECK CURRENT WAVESTORM PRICE AT AMAZON.COM <<
The Wavestorm Bodyboard is one of the most accessible or approachable bodyboards in the market because of its all around template and straightforward design.
Trademark Soft Foam Construction
Very durable EPS core
Newly engineered contours on deck
Bottom skin built for slick speed
Channeled bottom
Crescent tail
---
Lucky Bums Boogie Board with EPS Core

Looking for a no-fuss boogie board that you can readily take to the beach?
>> CLICK TO CHECK CURRENT LUCKY BUMS PRICE AT AMAZON.COM <<
The Lucky Bums Boogie Board with an EPS core is one of the best bets there is. Super light and super durable, it can withstand beach conditions that range from fun to gnarly.
60/40 rails
Rear channels for speed
Highly dense polyethylene bottom
Engineered EPS core for buoyancy
Comes with a wrist leash
---
Beach Attack Pack – Wave Weapon Super Lightweight Boogie board by Own The Wave
This board is not called a wave weapon for nothing. Made of ultra lightweight materials that have been engineered to become super durable, the Wave Weapon is the ultimate board of choice for riders who want to charge the biggest and fastest waves in a wide range of conditions.
>> CLICK TO CHECK CURRENT BEACH ATTACK PRICE AT AMAZON.COM <<
It comes with a highly visible colored leash so you can spot your board right away in case of a bad wipeout.
High speed surface for slick rides
Strong EPS core
Channels at the rear bottom
Standard crescent tail
Comes with a premium leash
Comes with premium fin tethers
---
SandSurfer 43″ Boogie Board
This ultra light board from SandSurfer sets a new standard for super fast and lightweight boards. It is impressively light and excitingly fast. It's a premium board made reachable to a mass market because a great board like this just demands to be had.
High speed slick bottom
Crescent tail
Comes with a super comfortable leash
Comes in variety of prints
---
---
---
Read on below to know about some of the factors to consider when picking out your first ever board. We listed down some of the most common boards that are readily available on Amazon.
Which board is right for you? 
Among the most important factors to consider when buying your first board are size and price. When you consider these two aspects alone, you can ensure that you'll get something worth your money and time.
Size
The bigger the longboard, the better for bigger riders. If you are 6-foot tall and heavier than 180 lbs., you should consider getting boards that are 44 inches or longer. Meanwhile, kids and smaller riders can go with boards starting at 33 inches long.
Price
Good boards are not cheap. Cheap boards are not good. With this in mind, you should consider the purpose of your purchase. Are you buying a board as a long-time commitment to try a new sport? Or do you just need a water toy to tide you over on a recent beach trip? If you are the type to really want to get serious with bodyboarding, prepare to shell out a decent amount of cash, but know that each cent will be absolutely worth it.
Skill Level
The one other crucial thing when buying a boogie board is your skill level. This aspect will take some serious honesty. Gauge how well your water skills are and how deep your commitment is to the sport. If you are admittedly a beginner but are looking to develop intermediate to advanced skills, you should consider investing on an above average board that will become your lifetime board. If you are a newbie that just wants to hang around the beach and enjoy having a boogie board for the lifestyle, you can consider a cheaper board that does not have the advanced features such as thumb grips, flexible stringers, or carbon-strength pipes embedded inside the core.
Wave Conditions
You should remember that your board needs to be able to support your height and weight; and you should also consider that your bodyboard should also be able to stand up against the type of conditions you plan to take it out on.
If you want to charge in dumping beach breaks, be sure to get something made of ultra durable material such as carbon-strength cores. If you want to get some radical air time, you should consider boards with a highly ergonomic design so you can maximize your stance and improve the quality of your ride. If you're more of a speed demon looking to blaze through the face of the wave, consider graduated channels at the rear bottom part of your board. Most boards come with slick HDPE bottoms, and there are boards that have been engineered to go even faster.
Smaller and narrower boards are made for faster riding and steeper wave catching. If you use a small and narrow board on a small and weak wave, you won't be able to pull off maneuvers as easily as in big and fast waves. For smaller days, it would be wiser to use a longer board.
No matter what type of conditions you plan to go out on, remember that there is a suitable board for all situations.
Are you ready to pick your first ever boogie board? If you are, then congratulations on deciding to give the adrenaline-filled sport of bodyboarding a try! Nothing feels better than catching your own wave and gliding along the beautiful face of a wave. So go on, have the time of your life!
FAQ
How do I take care of my bodyboard?
There are a couple simple rules you can follow to best prolong the life of your bodyboard:

1. Carry your bodyboard down to the water; don't drag it. We always see people running around the beach dragging their board by the leash. This is a very easy way to damage the edges of your board. It can bend the board out of shape and make it deteriorate faster.
2. Store it in a cool, place, out of direct sunlight. Your best bet is a cooler garage or shed. Don't store it in your car either. Heat and sunlight are the biggest culprits for delamination. If you use the laminate on your bodyboard, you won't be able to use it.
3. Always make sure your leash plug is on tight. Leash plugs can easily come loose and tear up your bodyboard, not to mention let it drift out to sea.

How do I install my leash plug?
Most higher end boards don't come with the leash plugs already installed, as it leaves you a bit of versatility. That being said, leash plugs are incredibly easy to install. Here's a step-by-step on how to install your own plug:

1. Use a ruler to measure a point that is about 6 inches from the nose of your board and use a pencil to mark the spot. The spot should not be in the center, but rather off to the right or left depending on which is your dominant hand.
2. Before drilling or screw driving through your board to create the hole, make sure that you won't be drilling through any of the stringers if your board has them. Once you've found the perfect spot, make your hole through the bottom of your board, almost to the top of your deck, but not all the way through.
3. For the top of the deck, take your screwdriver or drill bit and heat it up with a lighter. Gently push that through the deck to create a small, natural hole.
4. Lastly, place the leash plug through the hole and make sure it is firmly fit inside before screwing it in. Coins are perfect for screwing in the plug.

Do I need to wax my bodyboard?
There's much debate about whether or not to wax your bodyboard, though many pros believe it is necessary for hitting those waves that need you to be glued down. If you decide to wax, the best places to wax are the rails, where your chest will sit, where your elbows will sit, and where you grab the board. Overall, the chest is the most important, as it is easier to slide around on your chest than anything.

Final Thoughts – Which Should I Get?
Bodyboarding is a sport that will continue to grow larger in the next few years, so we highly recommend getting out there now! You should now have a solid foundation on technical specs and other features that you can find on various bodyboards. The most important thing is finding one that is the correct size.

Out of all the boards on our list, we highly recommend the Mach 7 Morey Boogie Board. It's one of the most reliable boards on the market and is ridden by beginners and veterans alike. This board was a major game changer for bodyboarding and still is today. It may even be the best purchase that you make this summer!
>> See Our #1 Recommended Bodyboard - Click Here <<